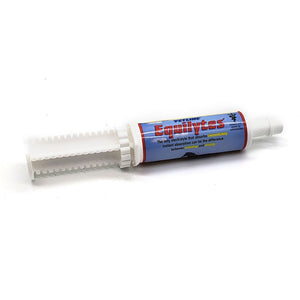 Equilytes® Paste
VetLine Equine
Regular price $11.50 Sale
Equilytes® Paste was originally formulated for race horses for rapid electrolyte replacement, so our patented blend absorbs immediately. All other brands take over eight hours to be absorbed by the gut. This also allows electrolyte absorption even during the athletic event, giving you that competitive edge when you need it! Studies have shown the use of Equilytes® effectively delays fatigue and prevents symptoms of muscle cramps. In a similar manner, a dose of Equilytes® before loading into trucks or trailers greatly assists the horse's condition upon arrival at his event.
Q: WHAT IS EQUILYTES® GOOD FOR?
R: Dehydration, traveling, exhaustion, effects of stress, pre-workout, post workout, during events, multi-day competitions, and endurance horse races.
Q: HOW MUCH PASTE SHOULD I GIVE DURING EVENTS?
R: Give ½ or 1 full tube a half an hour before horse races, quick bouts of intense exercise, or travel.
For longer horse races, endurance, or multi-day competitions, feel free to also give ½ or 1 full tube during the time your horse is expected to work.
Q: WHAT IS THE TUBE SIZE?
R: 60 grams.
Q: HOW LONG WILL A BUCKET OF THE DRY MAINTENANCE FORMULA LAST ME?
R: If you feed two ounces a day, the 6.6lb bucket will last 70 servings, and the 25lb bucket will last 264 servings.
Q: WHAT IS CHELATREX®?
R: That is the name of our proprietary, patented chelation process.
Q: HAVE ANY STUDIES BEEN CONDUCTED ON THIS PRODUCT?
R: Yes! Equine veterinarian and researcher, Dr. Ken Larson conducted studies on over 100 endurance horses during his formulation of Equilytes®,  giving this horse product proven results.
Q: CAN I OVERDOSE MY HORSE OR PONY WITH THESE HORSE SUPPLEMENTS?
R: No, it would be very difficult to overfeed these horse supplements. All of our products are safe to use with other horse supplements and medication.