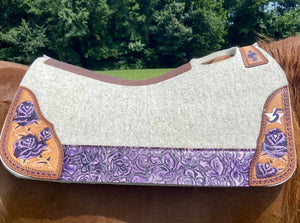 "The Vintage Purple Rose" - Limited Edition Pad
5 Star Equine Products
Regular price $346.95 Sale
Natural pad with Savannah Roses wear leathers and hand tooled and hand painted corner plates; purple buckstitching.

Standard Wither: Gullet Hole (Great for Standard Withers).  
Other Options:
Flex Fit wither option for an additional $5.00;

Fleece Bottom - Additional $61.95

Please contact us directly to order custom options.
Pattern maybe slightly altered on 32"x32" due to having to change the pattern.
PLEASE NOTE:
Longer Production Times are to be expected as these are handcrafted to order 

As of August 2023 build time is about 2-1/2 WEEKS. Please keep that in mind when placing your order.  Shipping time would be in addition to the build time.
Due to the handcrafted nature of these custom hand-tooled and hand-painted leather, minor variations may occur.  
We cannot guarantee that your saddle will not cover part of the design. 
Please call us with any questions or concerns before placing your order.